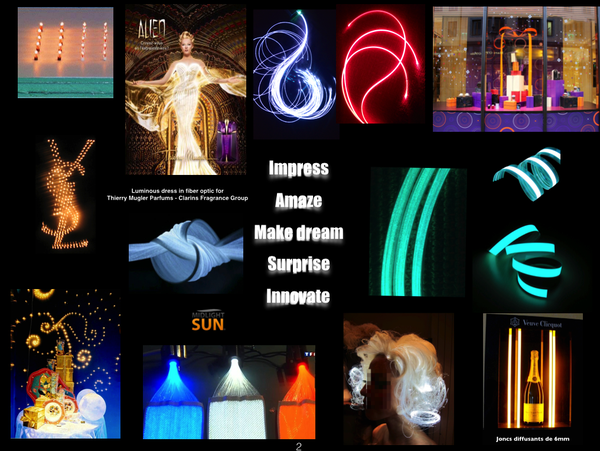 Midlightsun explore new areas in the interior and exterior decoration, using innovative and original advanced lighting technology.
Fabrics bright fiber optic most powerful on the market. (Visible in broad daylight), French manufacture patented
Fiber optic light - unique process 3 to 5 brighter than the cracked fiber. - French manufacture patented
Cordless LEDs, spotlight - French manufacture patented - Unique in the world
Bright ribbon as thin as a credit car, for any surface indoor/outdoor - Manufacturing USA patented
Our lighting decoration products can be used for special events, from architecture to interior and exterior design.
Various applications are: the development of interior design, decoration of hotels, shops, exhibitions, shows, exhibitions, product launches, ,
inaugurations, advertising, fashion, theater, decoration, advertising media, innovative and original packaging, the signaling, safety. ..
Our main clients are : Hotels, restaurants, bars, event agencies, advertising agencies, public relations, sign makers and installers, decorators, architects designers, costume designer modeler, designer light ...
Our applications are all different, we investigate the specifications of our customers on an individual basis to best meet their needs.
Whether your project is decorative in nature or even artistic, we will use all means possible to ensure its feasibility and to achieve as soon as possible.
Do not hesitate to contact us.
www.midlightsun.com
Tel. 00 33 2 43 84 49 98